Steve had to go to Winston Salem on Tuesday, so I stayed home with Ella and got to be a stay-at-home mom for the day. It was awesome! I slept until 8:15am (2+ hours later than usual!), we ate a leisurely breakfast, played for a while, then went to the library for toddler hour. She loved it – they sang several songs, played a game, read books, and then got to play with stamps at the end (side note: stamps and stickers are pretty much the coolest to her these days…). There were a bunch of kids there, at least 20, maybe more, and she was a little timid at first but near the end I was able to chat and keep an eye on her while she had fun playing with stamps and the other kids that were there. Every few minutes she would look up at me, wave and smile and say 'hii-eee'.
At home later, checking out her stamp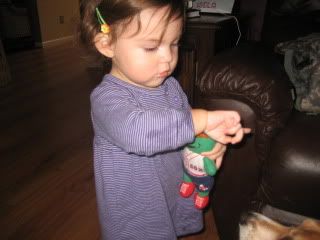 Ella took a nap in the afternoon while I got some stuff done around the house, then we played outside and ran some errands.
Sweet smile during snack time
Sweet little nuggie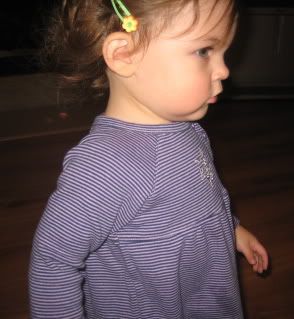 Afternoon tea party
It was 5pm before I knew it. The whole day was so much fun and definitely made me think that I could get used to this!!