Tonight we went to a huge semi-annual consignment sale at a church nearby. I really want to get Ella an outdoor playset and have been looking for a good bargain online for a few weeks and was hoping we'd find one there. We did not, but oh what a good trip it was!!
We got:
- a winter coat from Baby Gap
- a winter vest (brand new with tags on!!) from Gymboree
- shopping cart (Ella picked out)
- kitchen play set (Ella picked out)
- Tigger chair (we picked out)
- AND best of all - we got her big Christmas gift - a big ride-on pink Jeep that she LOVED and spent 99% of her time inside...she actually threw a semi-tantrum when we finally pulled her out of it. Repeat once we got home and Steve put it in the driveway...Luckily she has a short memory and will be as thrilled as if she's never seen it before on Christmas morning!! (we'll have to be a bit more clever as she gets older)
Packing the car was no easy feat and took about 15 minutes, ending up with having to drive home with the back hatch open - BUT it was all worth it when we got home and Ella had so much fun with her new toys!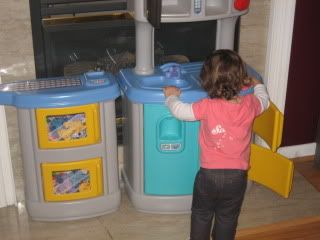 All that great stuff at such fantastic prices, what a bargain!!