Lately I've noticed that Ella seems to have a lot of fun with other kids that she's around, and instead of just playing near each other, she's really interacting and having fun with them.
On Friday night we went our neighbors' house for dinner and their little boy Caleb is 6 weeks older than Ella. They have met a few times before but this is the first time they had serious play time - and it was WILD! They had so much fun together, we really couldn't believe how wild and crazy they were, laughing, yelling and carrying on together. Everything one did, so did the other.
Both in baskets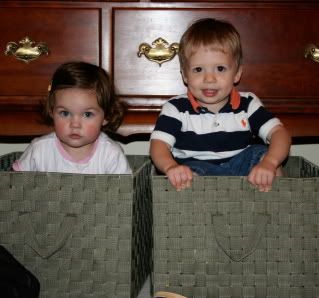 And enjoying a hearty tug-of-war
(And yes, as you could probably guess, that tape measure had to be taken away after a WWF wrestling match ensued over it...)
Saturday was my friend Christine's son Dominic's 1st birthday. Although Dominic and Ella are 10 months apart, which now seems like a lot, I like to think that soon these 2 will be great pals. Dominic's birthday party was a lot of fun, they had a singer for the kids and the weather was sunny so everyone got to enjoy the music oustide.
Ella and Dominic having a chat (I think Ella was giving some sage advice on how different life will be now that he is ONE YEAR OLD!)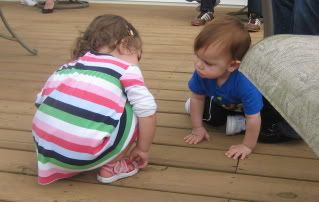 Dancing to the music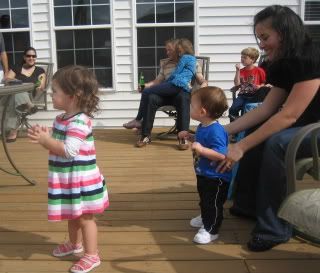 More chumminess - the last time we saw Mia was in June and she and Ella really didn't have much interest each other. But this time, they just couldn't get enough of each other - they spent a lot of time just holding hands and walking around the yard, dancing - it was precious! Mia is 14 months old and I think Ella thought she was the big girl helping to take care of her.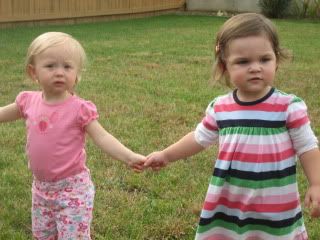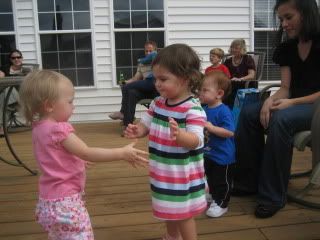 And some cute videos from the party -
Wheels on the Bus go round and round (and so do Ella and Mia)
Ella leading Mia
Enjoying the music