Mom & Glenn came to visit this weekend and we had such a good weekend. Glenn took his friend and Steve to the Hurricanes game on Friday night and me, mom and Ella had a girls night with delicious takeout, wine and lots of chatting.
Then, on Saturday, me and Steve went to the NC State football game with friends and had so much fun! We went tailgating for several hours before the game, we totally lucked out with the weather, and then had a great time at the game. Then we went out to sushi for dinner.
So, it was an excellent day for us...and even better day for Ella.
Bringing her backpack to Grammy's, ready for a big day of fun!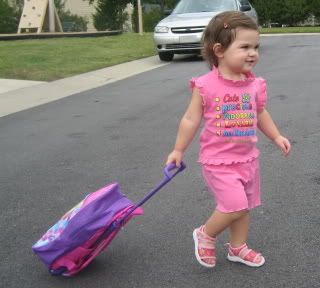 Ready to play!
They did all kinds of stuff and Ella was busy, busy, busy all day.
Mom and Ella baked cupcakes together and Ella was the assistant chef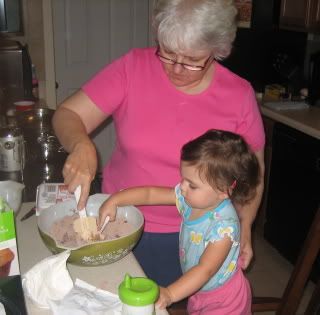 Yummmmmy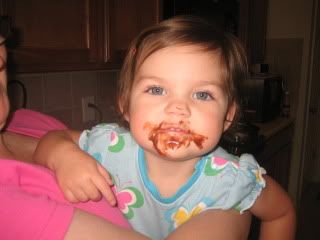 And of course some art projects as well...fingerpainting!!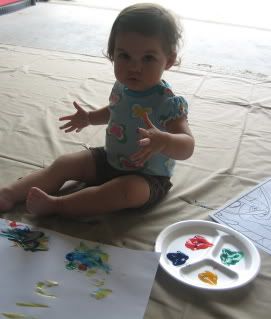 And drawing on her new easel from Grampy G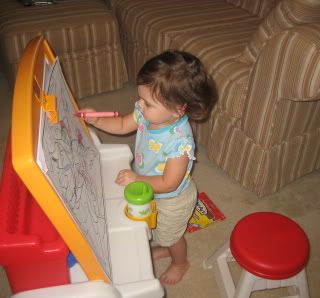 Ella was tired after her big day and went right to bed around 8pm. We were so excited to go pick her up on Sunday morning and we were so happy to see her. She was so sweet and kissy and kept going back and forth hugging both of us. Then she immediately raced over to her new easel and got back to her artwork.
Here are the 4 of us on Sunday after church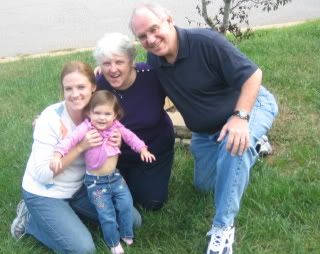 It was such a great weekend and best of all was the fact that we knew Ella was having so much fun with Mom & Glenn, which made enjoying ourselves even more fun for us!