I took Ella to NJ from August 15th-25th for a weekend at Mom & Glenn's and then a week at the beach. I was really glad we already had a successful weekend trip down, so that made the planning seem a little simpler, but still it is hard to really believe the difference in traveling with a baby and not!
Mom & Glenn made it much easier by buying almost everything Ella needed for the week, so I was able to pack very light and shipped up a box ahead of time so that there'd be even less to pack. Because Steve was coming up for the second half of the week, Mom flew in to Raleigh on Thursday so that she could fly up with me and Ella on Friday. I asked for as many 'flying-with-baby' tips from friends as I could gather ahead of time, and decide to carry Ella in the Bjorn through the airport which worked out really well. We got through security very easily and without having to taste any of the bottle of breastmilk (!! - the agent on the phone told me I might have to!) and everything in the airport went smoothly.
Ella was a little fussy getting on the plane and cried while we were getting ready to take off, so I was pretty nervous she'd be upset the whole time, but amazingly she fell asleep in my arms as we took off, and slept the entire flight until we landed - and longer! I was amazed at how well it went and how she slept like that.
Unfortunately I caught some kind of stomach virus on the way to NJ - I got sick on Friday night and didn't feel better until Sunday morning. I haven't been sick in many years so it was really horrible (and have never had a stomach bug like that before), and it was definitely NOT the way I planned to start vacation! Even worse, I managed to pass it on to Mom, Glenn, and then Erin who got REALLY sick from it. Erin & Josh were there for the weekend because they were going to a wedding of one of Erin's friends, so that was why I planned on that weekend, but I hate that I ended up getting Erin so sick.
Although I had to cancel some plans, luckily I still got to see Courtney on Friday night and then again on Sunday, she and Mario came to breakfast and were able to meet Ella and we got to spend time together. They came down for my shower in December so I haven't seen them since Ella was born and it was so great to have them meet!
Having fun with Gramps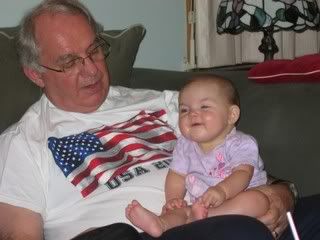 Playing with Aunt Erin & Uncle Josh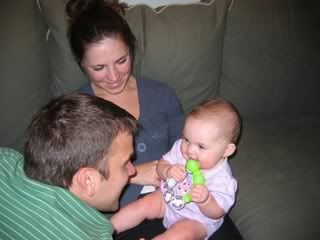 Erin & Josh going to Laura's wedding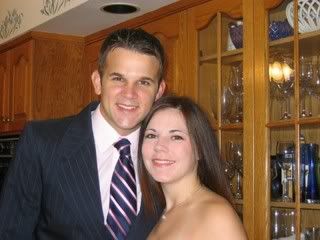 Ella posing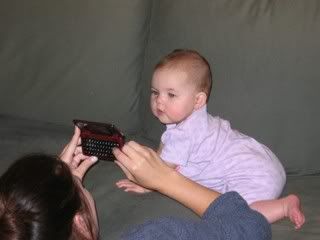 Being silly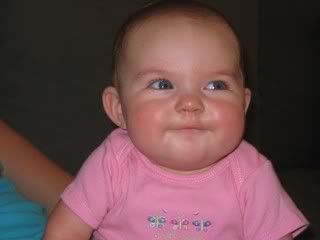 Kisses from my baby - MY FAVORITE THING EVER!!!