We had an absolutely wonderful Christmas holiday for Ella's first. We headed out to Charlotte on Christmas Eve to Erin and Josh's house, and celebrated Christmas there. Beware for a long post with many, many pics (and more to come when I get more from Mom!
Erin and Josh were the perfect hosts (as usual) and we had a wonderful time.
Dressed up for church on Christmas Eve with Grammy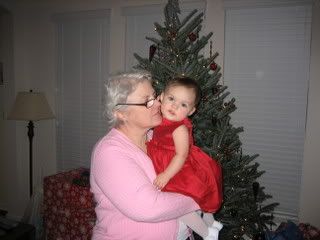 The 3 of us
In her sweater!
Christmas morning, in her PJs and santa hat with Daddy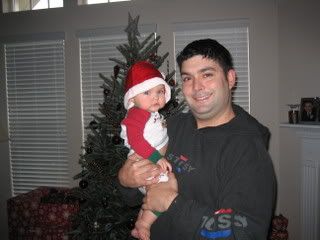 Erin's tree and so many gifts!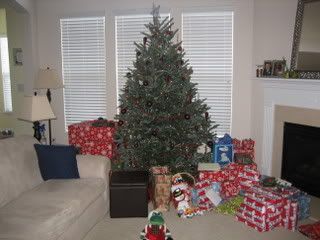 The world's cutest little elf
Checking out her toy from Santa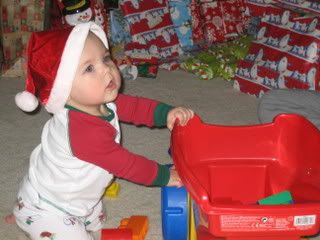 Standing up on her new dump truck full of blocks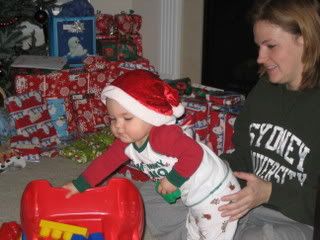 Pushing it all by herself!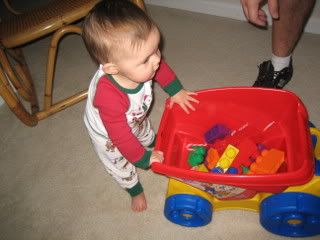 This little frog croaks Jingle Bells. Ella crawled right up to him to investigate.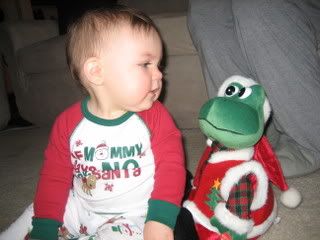 Hey, who is this guy??
After her morning nap it was time to get in full Santa costume!!
Here is a very serious little Santa with Aunt Erin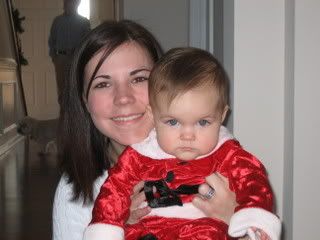 With Gramps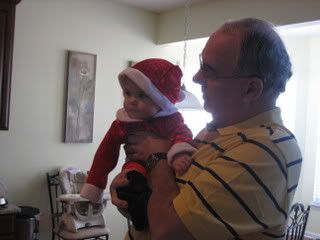 Dad and Donna came for Christmas too which was so nice. It was our first holiday with everyone together and really a treat for Ella's first Christmas.
Here is Ella's stocking. My mom made it by hand and it's really beautiful. My stocking is also a snowman that Mom made for me when I was a baby, and a few years ago she got Steve a snowman stocking too...so now all 3 of us have one :).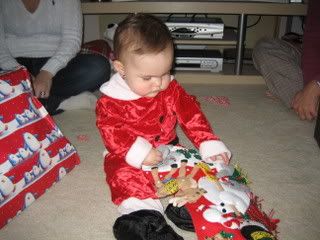 Ella got everyone ornaments with her photo on them...here is Grandad with his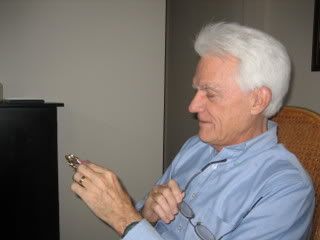 Climbing on Aunt Erin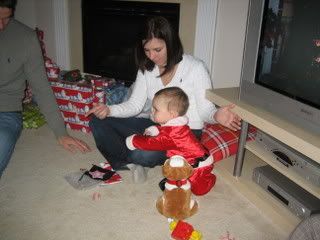 Opening presents with Uncle Josh
With Daddy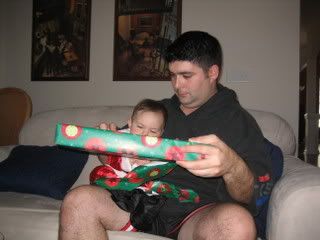 Climbing up Grandad's leg...trying to get to Chico!!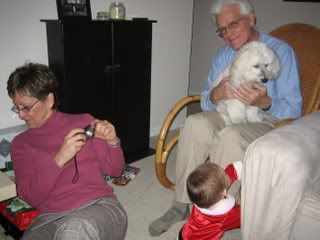 All this gift opening makes a girl thirsty - time for a water break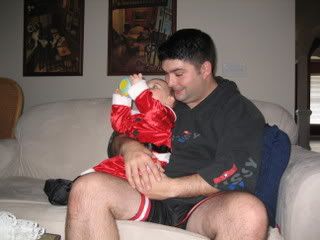 With Grandma
After dinner (which was fantastic) Ella got to play with a lot of her new toys. Here she is riding on her lion
Getting a push from Erin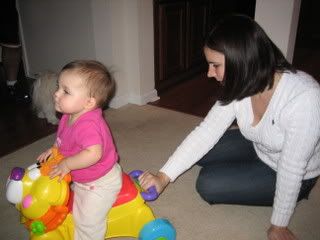 Standing up and pushing it (with a little help from daddy)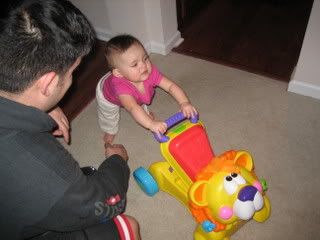 As she always is, Ella was completely fascinated by Chico and this time seemed to figure out his leash - here she is with a good grab on it
Following him...but still holding on to his leash
We also took some family photos after dinner
Later on, playing with Grammy and Aunt Erin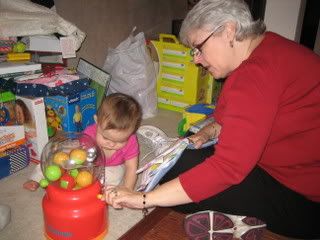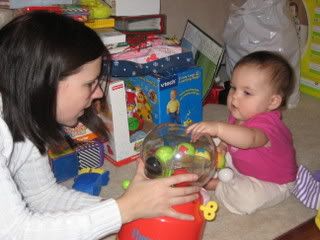 After a bath where Ella truly entertained us all, here she is reading books with Erin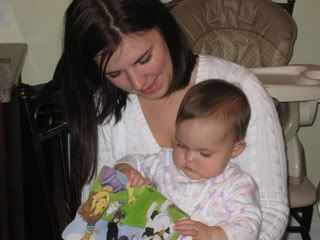 It was a wonderful day. Ella was completely spoiled by everyone (we were too!) and the trip was great. It was so nice to have everyone together and I will always have a great memory of her first Christmas. I thought so much about how I felt this time last year, we were so excited to meet her and couldn't wait to find out what she'd be like. She is such a sweet loving baby (almost toddler) and I just want her to know how loved she really is. It makes me so happy that aside from parents that love her more than anything, she has a loving extended family that can't get enough of her as well, we are very blessed.