Wednesday, January 30, 2008
Posted by

Colleen
at 4:55 PM
1 comment:

Ella turned 3 weeks old on January 26. She weighs over 8 lbs now and looks more like a baby and less like a newborn every day. Her cheeks are much chubbier than they were and her eyes are open so much more often. I know they're not 'real' smiles, but she makes faces that look an awful lot like a smile and make my day - I can't imagine how it will feel when she actually smiles at me. She is always in a happy mood when she wakes up in the morning and is content the majority of the time. Once she gets overtired she'll get fussy late in the day but other than that she is a happy and laid-back baby. Breastfeeding has gotten much easier and she definitely eats like a champ.
Mom, Erin & Josh came for the weekend, Ella is a family-magnet!
And Erin was so completely sweet with Ella - she held her almost the whole time and had the sore arms on Monday to prove it.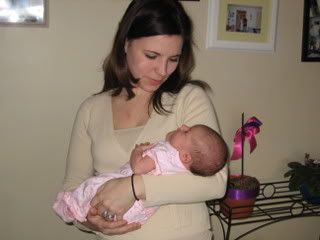 Check out that pose!
I got a pedicure on Saturday, and Steve & I went out to dinner and left the baby with our excellent 'babysitters' - this time there were no tears (progress!), and it was great to spend time together and out of the house.
Posted by

Colleen
at 4:27 PM
No comments:

Tuesday, January 29, 2008
Ella turned 2 weeks old on January 19. She already looks so different from when she was first born - her eyelashes are coming in and her hair is growing. Her eyes are still a dark gray-blue, I know they'll change but the current color is so gorgeous. She can definitely see our faces and focuses on them, and has a lot more 'awake' time than before. Her hands are always moving, and usually around her face. She's a very noisy sleeper and makes lots of grunts and groans while she's asleep - Steve says she sounds like a little teradactyl (sp?). She is just so incredibly precious.
Here are some other photos from her 2nd week.
So tiny and adorable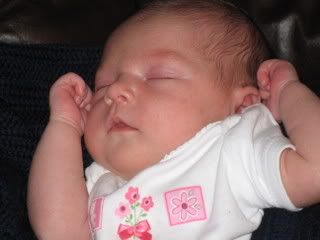 On Mom's birthday, the 13th - she was hoping for a shared birthday with Ella :0).
Now we have 3 January birthdays in the family (Steve's is the 30th)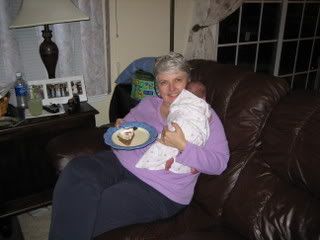 So peaceful, and look at those teeny hands!
With Grandpa - Wednesday January 16th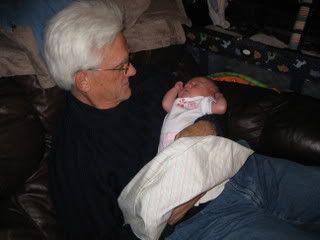 Little snuggler
Very alert in her glider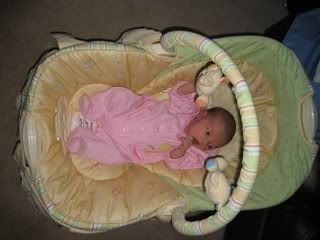 Fast asleep in her sling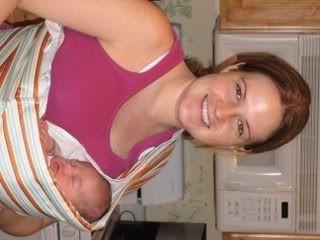 Maybe she's a lucky charm! Patriots win the AFC Championship and are headed to the Superbowl.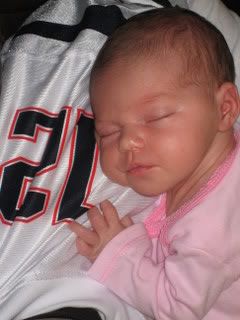 Posted by

Colleen
at 7:10 PM
No comments:

Sunday, January 27, 2008
I had taken over 500 photos of Ella by day 4, and it just seems that everything she does, every pose, facial gesture, hand movement, is cuter than the one before and I just can't stop snapping pics of all of it - thank goodness for digital cameras! Here are some favorites from the first few days home with her.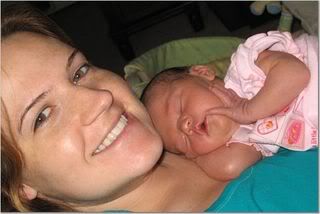 Such a little cherub, I am constantly shocked and amazed at how sweet and precious she is.
Posted by

Colleen
at 8:48 PM
No comments: