On Tuesday Jan 8 we had our first doctor's appointment for Ella.
In her carseat on the way there - how cute are those little hands in the air?!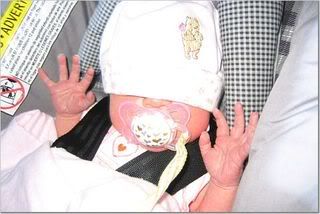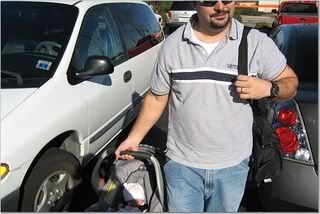 As we got out of the car there were two ladies getting out of their car and the one lady said (in a very thick southern accent), "Is that bah-by up for ad-op-shun??"...is was so cute and really charming. It was our first moment of feeling like the proud parents with a stranger fawning over the baby, really memorable.
It was pretty surreal filling out forms in the doctor's office where it said 'relationship to patient' and I filled in 'mother' - it really sunk in that yup, I am a mother now. I had my first feelings of strong maternal protectiveness when a little girl with a bloody nose got too close and asked if she could sit in the seat right next to us. Of course I had to say (hopefully politely) - "uhhh, no thanks, can't you sit somewhere else?"
At the appointment she weighed 6 lbs 9 oz, so she had lost about 8% of her bodyweight, which is normal, but ideally she'd be back up to her birthweight by her 2 week checkup. Everything else looked great and we were due back in 2 weeks.
So, all in all a successful morning!