Although her due date was not until January 11, Ella decided she was ready to meet her family and start her new life a week early!
I had a drs appointment on Friday the 4th and left thinking we still had a week or more to go until she'd be here - Steve felt more confident then me though, and as we were walking out to the parking lot said we'd have her within the week. I worked all day and went to bed around midnight feeling completely normal and with a big list of things to accomplish over the weekend so that'd we'd be 'ready for the baby' - including 'catch up on sleep' - hahaha!
I woke up at 5:50 am on Saturday in early labor and things progressed quickly and we were checked into the hospital by 11:00 am (after several hours of running around trying to prepare, including a trip to Walgreens). My labor was pretty quick and relatively easy (especially once I got the epidural) and out she came at 2:56 pm! Steve was an incredible support throughout labor and everything went so well. I feel so fortunate to have had a smooth and healthy pregnancy, and an equally smooth labor, and so blessed to have this precious little girl.
At birth, our baby girl weighed 7 lbs 2 oz and was 19 1/4 inches long. Her name is very special to us - we named her Isela Marie, a combination of Steve's mom and my mom's middle names, I'm so happy to be able to honor them through her name. For short, we call her Ella.
Holding her for the very first time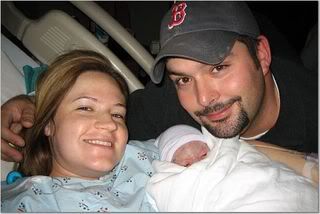 Proud daddy looking on
TOOOOO cute
First bath - she was
not
a happy camper!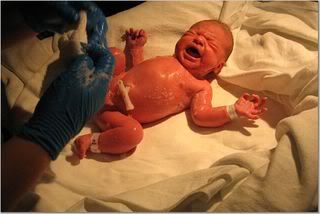 All done - much better :0)
Heading up to our recovery room