We had a hot weekend - seems like it went from a cool spring right to summer. It was over 90 both days and we finally broke down and turned the air conditioning on late this afternoon. One great thing about hot weather is that it's a great opportunity to dress Ella in adorable summer clothes!
Here she is doing her 'special crawling' in the drive way before gym yesterday.
Yesterday afternoon I took Ella to a wedding shower with me. Her favorite was the big friendly chocolate lab named Jada that my co-worker had, and Ella spent the majority of the time following and playing with Jada.
Check out these sweaty curls!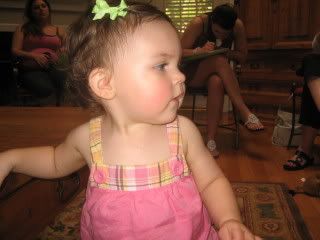 One of the games we played was the one where they call off funny items and you're supposed to see if you have them in your purse - normally I do horrible at that kind of game because for me I carry a tiny purse or just a wallet, with hardly anything in it. WELL, yesterday was a whole different story because I had my little buddy (and all her accessories) with me. I had the DIAPER, the ACTION-HERO (Super Sleuth Pooh), HAND SANITIZER, CAMERA, even the LIBRARY CARD! I came in a very respectable 2nd place - I am definitely a MOM!!
Here's Ella playing with some ribbon during the present-opening...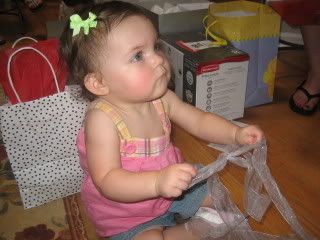 Last night I went out to dinner for a friend's birthday. Even though it was so hot during the day it was a gorgeous night and we sat outside and had a great dinner, good wine, and even better conversation, a really nice girls night.
This afternoon I took Ella to a park in town that I've not been to before and there is a big walking loop around a lake that is paved so was easy to push the stroller.
Hydrating - hey, getting pushed is hard work too :)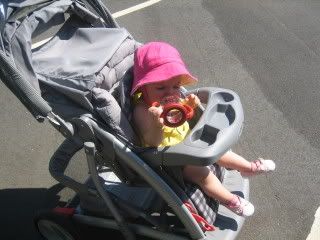 Here's a pic of the lake, it was really pretty and is less than 5 minutes from home so we will definitely go back often!