Steve has gone up to Virginia 2 times in the last 2 weeks to visit and spend time with his Aunt Margaret who has cancer and is very sick. The first time he went up the week after Easter, from a Tuesday to Friday afternoon. Mom had been here for Easter weekend and was here during the week and was a complete lifesaver because she kept Ella for me every day while I went to work. She even changed her plane ticket to go home Friday night instead of Friday morning so that Steve could stay one more night - which turned into a total debacle because her flight ended up being like 4+ hours late and she got home at 3am Saturday morning :(.
Last week Steve went back up but had to take Ella with him this time, and his sister Michelle who lives in SC came to our house first and they drove up together. So it was Steve, Ella and Michelle and her littlest boy Jack, who is 3 1/2. Steve said they had a really good time together and here are a few pictures of Ella and her 'big' cousin Jack.
Playing together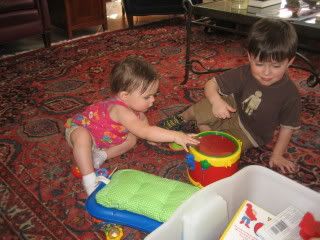 Holding hands!
They only ended up being gone for one night so it wasn't TOO much time without my little lady but I was dying to get her back in my arms. I'm glad that Steve has been able to spend the time with Margaret, his uncle Doug and cousin Rich, and his other aunt Thelma (who is visiting from El Paso), and I know he's been a very big help to them at the house, but of course I missed them a lot and was excited for them to get home.