Ella turned 7 weeks on Saturday, February 23. Her hands are unclenched most of the time and she is using them more each day. Her legs are often straight now, and she is able to keep them straight and bear a little bit of weight on her legs when I hold her on my lap, and can push back with her feet. When we hold her she can hold her head upright, especially when we sit her on our lap or hold her against our shoulder.
She really likes to take a pacifier now and will contentedly suck on it and just look around with her adorable eyes when she's sleepy. She's still sleeping in her swing and this week has slept 8+ hrs/night for 4 nights and at least 6 hours the other nights. We now read a few books to her every day and one of my favorite things to do is to rock her in the glider and sing and talk to her before putting her to bed.
One really neat thing is how much more interactive Ella seems - she will make and hold eye contact for a long period of time, and really seems to engage us with her faces and noises that she makes. She's very alert when she's awake is much less stingy with her smiles - she has several periods a day where she'll smile and grin and is SO CLOSE to cooing. Her smiles are just amazing and especially because she'll do so many in a row and seems so happy.
We got her a bouncy chair and we had her sitting in it on Friday night and she followed Steve across the room with her eyes while he talked to her - it was so cool to see her follow his movements like that.
Here are some pics from Ella's 7th week!
Notice the pants - they are size 0-3 months and fit in the belly but are waa-aay too long :)
Happy girl!!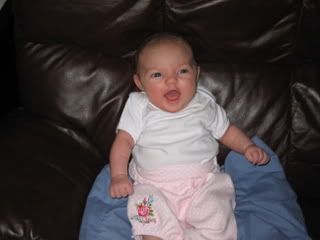 sleeping angel