We celebrated Christmas at our house this year, Mom and Glenn arrived last Tuesday and Erin and Josh came in after work on Wednesday.
A few pics from the day before Christmas Eve -
Ella with Mom and Glenn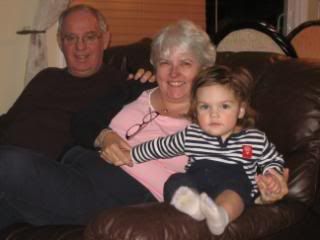 Being silly with Erin
On Christmas Eve we took Ella to see Santa at the mall with Mom, Glenn and Erin. Santa was going to arrive at 10am so we got there around 9:30am to get in line and still had a while to wait.
For an almost-two-year-old, waiting in lines is on her list of "least favorite things"...luckily there were several of us there and we were able to keep her relatively entertained throughout the wait.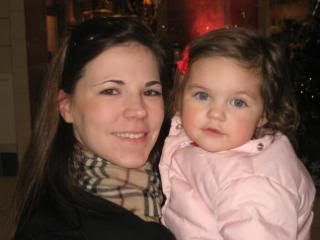 getting antsy...
Being silly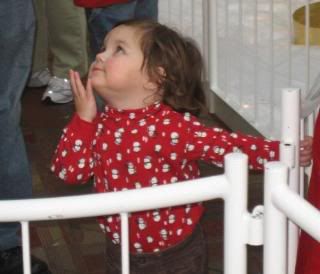 Eating a pretzel (the best distraction!)
We were really hyping Santa and how fun it would be to meet him and she looked at him, waved, and seemed to be getting really excited. When it was close to her turn she was more and more eager to see him and then when it was finally her turn she opened the little gate and headed right toward the big guy - then, she must have realized what she was doing and when she was about 3 feet away, did a complete about-face and started heading in the opposite direction!
Steve took her up to get on his lap and she did pretty well - she definitely was not crazy about the whole thing and she certainly didn't smile, but she did not cry either!
And here is the "official Santa picture of 2009"
Santa did give Ella a little coloring book that she was very pleased with, so I'd say she'd consider the visit a success!
After meeting Santa we wanted to let her ride the merry-go-round that she's been on once before and absolutely loved it. Mom and Erin rode it with her and although she did not have temporary insanity overtake her like the last time, she thoroughly enjoyed herself.
Ready to go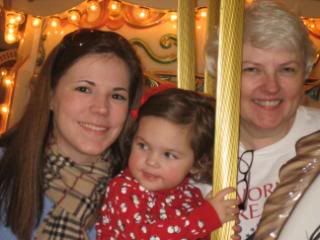 Waving!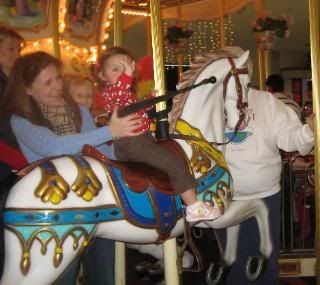 Here's a video clip of the carousel starting up and the first time around.
We went to church on Christmas Eve and it was quite an experience. It was a "family-friendly" service which means there was no childcare, so it was primarily focused on watching our active little one.
Here she is before church started, looking quite sweet and calm (do not be fooled!!)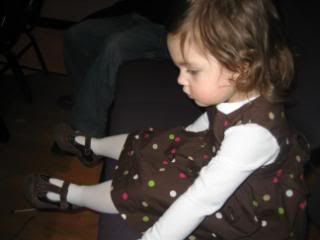 We had 7 chairs altogether so that Ella would have a seat too, and she spent almost the entire time on the floor wandering among all of us, hopping from lap to lap for 30 seconds or so, collecting pens and pieces of paper, yelling "no, no, no" at me when I tried to keep her from lunging on the burning candle Steve was holding, etc...
it definitely made me extra grateful for the nursery program!
We went to Mom and Glenn's after for a big dinner that Glenn made, then we got Ella home and in bed so that Santa could come visit and do his work!