Glenn got Ella an inflatable froggie pool last year but we didn't have a chance to set it up, and this past weekend was the perfect opportunity. We had a hot day and Glenn set it up over at his and Mom's house in Apex.
Steve's dad and Carole were here too (more about that when I post about Ella's dedication) so we all enjoyed watching Ella's first time in her froggie pool! At first she was not sure and had to carefully check everything out...
Hmm what's this?
A video of her checking it out...
Getting really excited!
As she got more and more into it (i.e. wetter), I changed her into her bathing suit so that she wouldn't be totally soaked in her clothes...she did NOT want to leave the site of her pool but was very happy to be back and ready go get in.
Here she is climbing in for the first time
Woah this is fun!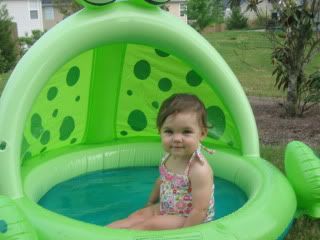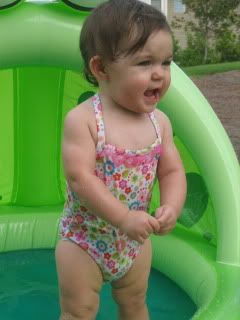 And some fun splashing -
She really had a ball, as did all of us watching her! her! Erin and Josh came while we were outside, and of course as soon as Ella saw Nola she needed to quickly evacuate the pool to go after her bud.
Ooooh Nola!!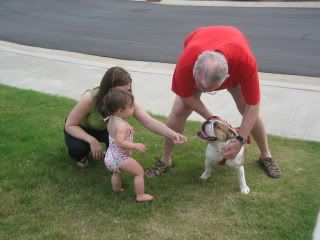 Must....pet...Nola
Here's a pretty picture of the sunset later
And after a bath, having LOTS of fun with Aunt Erin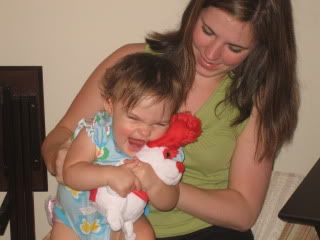 Mom and Glenn made us a great dinner, and a very fun night was had by all!