Ella got her first babydoll last year for Christmas and although she occasionally played with it, more often than not, her version of playing was tossing the babydoll around, and otherwise being anything but sweet and caring with her little friend!
Well, things are very different now and Ella LOVES babydolls. She got a new one for Christmas from Dad and Donna, her name appears to be Baby (quite original!) and she is tops on Ella's list right now.
Ella is so adorable and sweet with Baby - she gives her hugs and kisses, carries her around in a blanket, tucks her in, feeds her, pushes her in her stroller, and makes sure she is involved in Ella's activities.
In the morning when I get Ella up, she lets me know that we have to bring Baby downstairs too. She has another favorite buddy, Violet, that is a stuffed dog that she sleeps with every night, but Ella requires that Violet has to stay in her crib during the day (it's always night-night for poor Violet). Baby is lucky though and gets to have quite a nice little life outside her crib.
Starting the day with some milk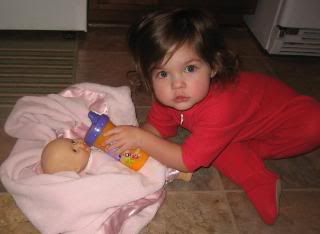 Ready for breakfast!
Baby on the breakfast counter
Nap time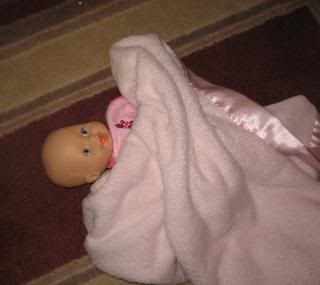 Wake-up Baby (or, as Ella says "Baby Kup-Kup"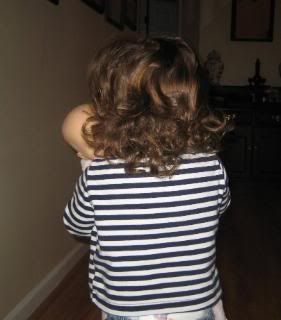 Road trip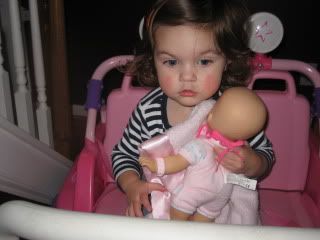 Dinner time!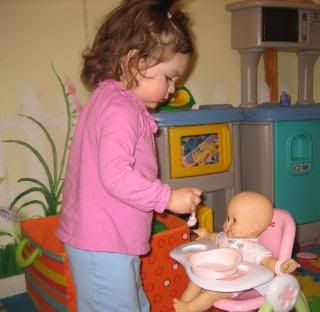 Tea and Birthday Cake for dessert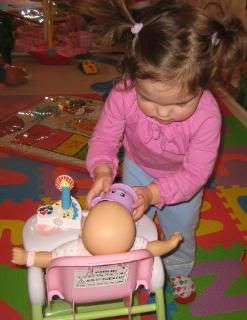 I love seeing how sweet Ella is with her Baby and how she takes such good care of her!