We spent all last week in Kure Beach on vacation with the Whiteside family. It was Steve's dad and Carole, Steve's brother Craig, his wife Jackie and their children Cayla, Cammi and Gavin; Steve's sister Michelle and her children Andy, Tyler and Jack, and Steve's sister Teresa. The whole family hadn't been together in almost 5 years, so it was a great family reunion.
During the day we'd usually get Ella out on the beach early in the day, then take her in for lunch and nap, then come back out in the late afternoon. Michelle set up her baby pool on one of the decks and that provided many, many, many hours of entertainment so I was very glad we had it!
Ella had a love-hate relationship with the beach and ocean - there were times when she really enjoyed it, climbed up sand walls, charged into the waves (okay, not really!), and had fun digging and playing in the sand, and then there were other times when she had zero tolerance for it. She'd be upset and unhappy and we couldn't get her out of there fast enough. Sometimes she'd want her hands wiped off because she didn't like the sand on them. Here are some occasions when she actually enjoyed the sand!!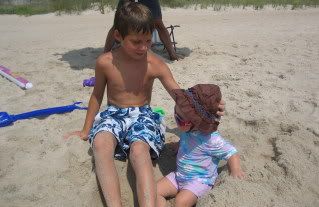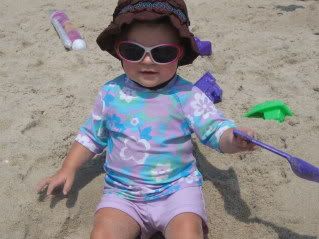 Ella absolutely adored her cousin Jack. He is almost 4 and she just thought he was the coolest thing around. She would follow him around, watch his every move, laugh and carry on at everything he did, and just could not get enough of him.
What are we looking at??
Having a chat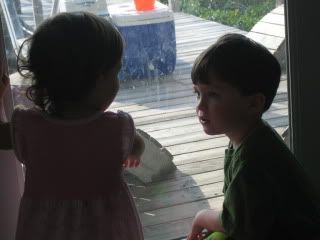 Wow, he's good at that!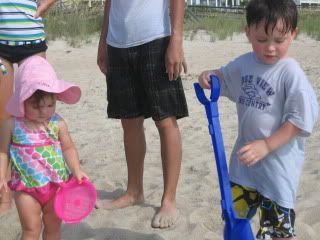 The 2nd day we were there, she got sunscreen or sand (or both) in her left eye and it was really trouble for several hours. Her eye couldn't stop tearing, it was swollen and almost shut, and she was absolutely miserable. She cried for a while, fell asleep for a nap, and it was just as bad when she woke up. We ended up getting her into the shower with me and flushing it out as best we could under the shower - of course she screamed throughout the entire process. I was really worried that it was scratched or that the sand was really lodged in there, but over the next hour or so she got back to her normal self. I don't think she's ever been in pain like that before, we felt so horrible for her and it was so scary, I was so happy when she was back to her usual self. After that, it was sunglasses all week to keep her hands out of her eyes...fortunately she was willing to leave them on most of the time and we didn't have any other eye issues.
We went on the beach after dinner most nights - we played several games of football (nothing like being stuffed after a big meal then running around for a while!), and enjoyed the deserted beach - it was really like our own beach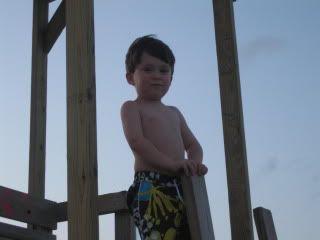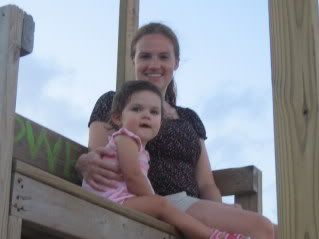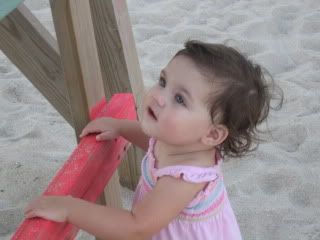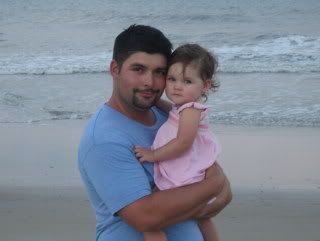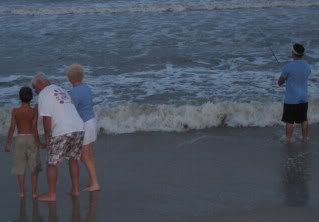 Cousins!!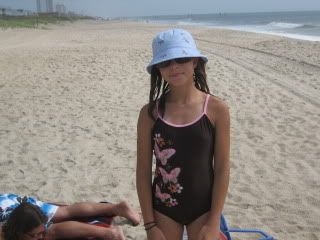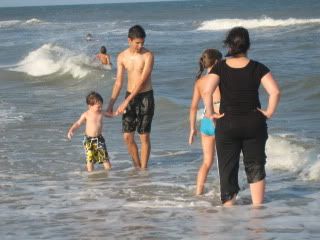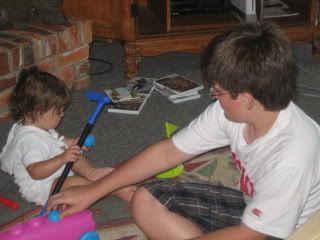 Cammi was sooooo sweet with Ella. When we were getting ready to head out for the beach on Saturday morning, Cammi played with Ella the whole time and I just couldn't believe how Ella was so happily occupied without me or Steve - it was awesome!! Cammi would play with Ella, carry her around, help out with anything she could, and was just such a doll. Here are some cute pix of the two of them :)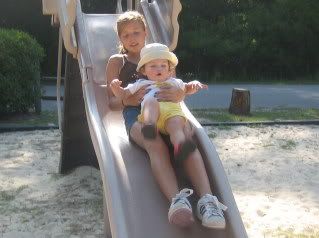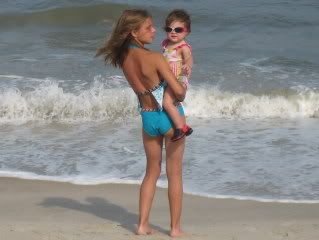 Photo compliments of Gavin!
Heading down to the beach with daddy
In the ocean with Grampy
Snuggling with daddy after a long day of sun and sand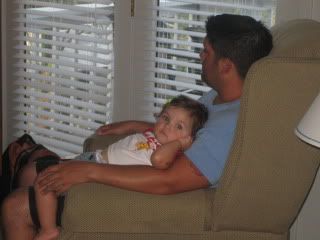 Seesaw fun!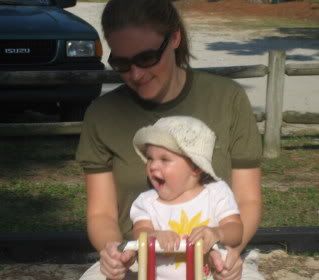 Adorable hairdo (just had to throw this one in here!)
All of us (except for Jackie who was taking the picture)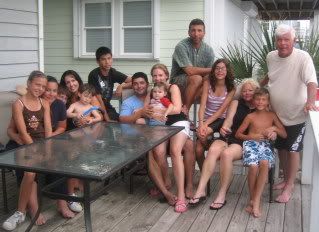 It was a really nice week and great to spend so much time with Steve's family!