This weekend we went out both days and took Ella with us, she was such a little champ and we had gorgeous weather. We went shopping and to lunch on Saturday and to the grocery store on Sunday. Steve got the Baby Bjorn hooked up so we carried her in there and she really seemed to like it.
Her face looked so tiny and adorable the way it was just peeking out when he was carrying her; and when I carried her I couldn't stop kissing the top of her head. And it's so nice that you still have both hands free and she is very secure in there. The car seat carrier is pretty difficult to walk around with because it is heavy and a weird length so it's always bumping you in the legs if you try to walk any distance with it.
It is really good for restaurants though so she can hang out in there and is easy to get in and out. When we went to lunch on Saturday the hostess gave us a kids menu and crayons for her (???) which really gave us a laugh. It worked out great because it was time for her to eat since we'd been out a few hours and I was able to give her a bottle while we waited for our meal and then she pretty much just dozed and looked around while we ate.
Here she is on Saturday
And here she is on Sunday after we came home from our errands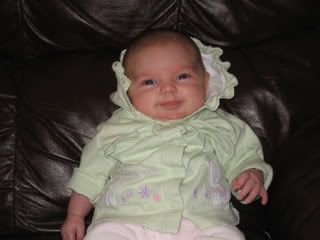 Guess she was happy to be home!
Oh and I met the first person to get her gender wrong! I was carrying her in the baby bjorn at the drug store and a woman came over and said "oooo-ooooh can I look?" so I said okay and she looked at her and said "boy?"...hmpf. I was like "NO, she is a stunning little princess, can't you tell"...okay, okay, I was LIKE. Really I just said "nope, girl" (ha!). I did have her dressed in green, but still, I think she clearly looks like a girl!
The lady ended up being really sweet though and told me she had a brand new grandson that turned 3 weeks old today and she was flying out the next day to Italy to meet him, because her daughter's husband was in the military. She said her daughter was 30 and so she had forgotten what it was like to be around a tiny baby but couldn't wait to meet her grandson. She was so excited and was buying things for her trip.
It really hit home for me and made me grateful once again that Steve is out of the Army for good, how glad I am that we waited to start a family until he was out, and how fortunate we are to have family close to be so involved in Ella's life.I felt sad for that lady's daughter because I can not imagine having gone through the first several weeks without mom here to help take care of both us and our new little angel. We are truly blessed!