When Glenn was a little boy, he and his brother Jack had a wooden rocking toy that looks like a puppy - it's just like a rocking horse except there is a little seat that you climb in instead of sitting on the outside, and of course it looks like a puppy instead of a horse!
So, this rocking puppy is about 60 years old - Jack restored it and his children (who are my age) all played with it, and then Glenn fixed it up for Ella!
As soon as she saw it she wanted to get right in, and here she is trying it out for the first time.
Checking it out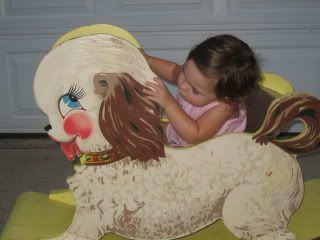 Whee, this is fun!
She got it rocking a little high for my taste but it seems quite sturdy and she definitely enjoyed it!
Thanks Grampy G!