Here are some pictures of Ella from this past weekend.
Looking so angelic and sweet, you would never imagine what she's capable of!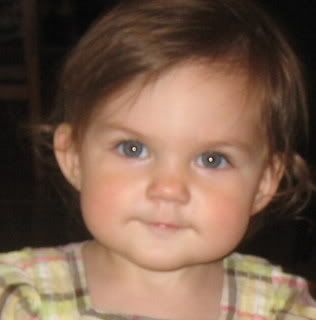 Hey Mommy!!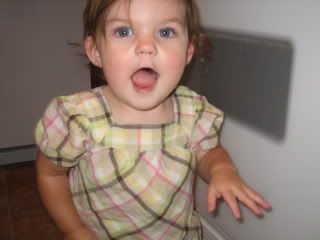 Very nicely playing with Nomar (yes, I write that completely seriously...)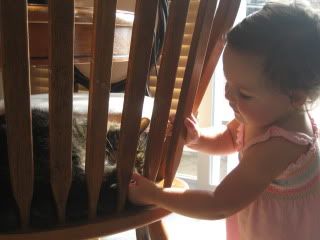 Exploring outside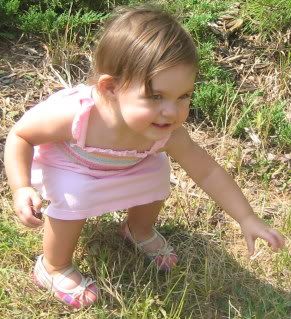 Looking very pensive...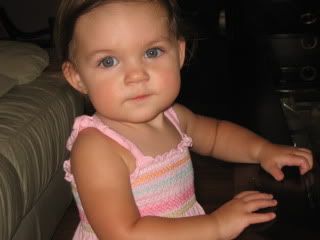 Look at this face!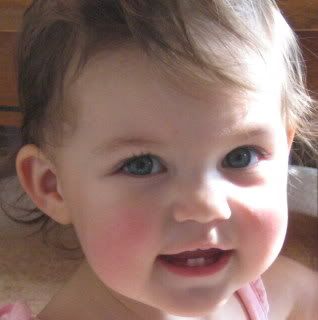 Very busy playing with HER cups on the couch - NO TOUCHING ALLOWED BY PARENTS!!! I REPEAT, THESE 4 CUPS ARE OFF LIMITS TO ADULTS AND ARE FOR ELLA'S AMUSEMENT ONLY. THERE ARE SERIOUS PENALTIES FROM ELLA'S RULE BOOK FOR BREAKING THESE RULES.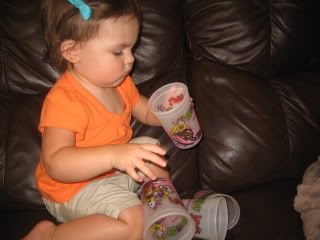 We went to our friends' son's birthday party on Saturday at Monkey Joe's, which I haven't been back to since taking Ella there when she had just turned 1, and Steve had never been there. She had such a blast. She was very bold, all over the place, and way more adventurous than last time. Steve took her up the biggest slide and she loved sliding back down. I took her into a princess castle which involved a little more climbing and an obstacle course that I hadn't anticipated and my maternal instincts had to be displayed when a big kid just about knocked into Ella twice (don't mess with my cub!). Then in the little monkey bounce she had so much fun, it was really adorable. Unfortunately I didn't have my camera (actually, not true - I had my camera but no memory card) so couldn't get any pics which is a shame because she was just so darn cute and had so much fun there.
We also stored away a lot of Ella's baby stuff this weekend and it was really a reminder of just how big she's getting, looking at her tiny newborn clothes and I can remember her wearing them like it was just yesterday. There were outfits that I would think that she had just worn them a few months ago and the size would be 0-3 months which means she hasn't worn them in over a year, but I can picture it so well. We also stored away a bunch of baby toys that she's outgrown. She's getting so big so quickly!